PT Mora Telematika Indonesia Tbk / Moratel International - International
Also Known As
Moratelindo
Long Name
PT Mora Telematika Indonesia Tbk / Moratel International
Company Website
Company Website Override
IRR as-set/route-set
AS23947:AS-MORATELINDONAP
Traffic Levels
500-1000Gbps
Geographic Scope
Asia Pacific
Protocols Supported

Unicast IPv4

Multicast

IPv6

Never via route servers
Last Updated
2023-11-23T02:36:12Z
Public Peering Info Updated
2023-05-23T08:15:40
Peering Facility Info Updated
2023-05-23T08:14:30
Contact Info Updated
2023-08-24T06:50:03
Notes
Engaged in the fiber optic infrastructure for telecommunication network, Moratelindo is positioned to be one of the largest network access provider in Indonesia. Moratelindo is supported by professionals and experts who have experiences more than 20 years in the industry. We also have experiences to serve various client segmentation such as Telecommunication, Government and other industries. Moratelindo Cable Sistem 1 (MIC-1) is the first international network built by Moratelindo linking Indonesia and Singapore. We also have another cable system (MIC-2) linking Singapore and Indonesia. Moratelindo has a national network connecting Sumatera – Java – Bali island with cable length is 7,167 kilometres. Later in 2011, Moratelindo built fiber optic infrastructure which connecting Batam – Dumai – Malacca (BDM) with cable length is 403 kilometres. Few years later, Moratelindo developed the second international fiber optic which connecting Jakarta, Bangka, Bintan, Batam and Singapore (B3JS) with cable length is 1,234 kilometres. Furthermore, to deliver a reliable high-speed internet connection in 2014, we established a network to access Jambi and Batam (JIBA) with cable length is 414 kilometres. As one of the largest telecommunications infrastructure services provider companies in Indonesia, Moratelindo currently has a 36,951 km fiber optic cable network consisting of land and sea fiber optic networks. The fiber optic network covers Java, Sumatra, Kalimantan, West Nusa Tenggara (NTB), East Nusa Tenggara (NTT), Southwest Maluku, Papua, West Papua, Singapore and Malacca. In addition to providing network access, Moratelindo also has Nusantara Data Center (NDC) which is located in 5 major cities; Jakarta, Batam, Medan, Surabaya and Palembang.
RIR Status Updated
2022-11-18T22:55:10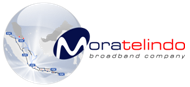 Peering Policy Information
Multiple Locations
Required - International
Contract Requirement
Not Required
Some of this network's contacts are hidden because they are only visible to authenticated users and you are currently not logged in.
mipl.eng@moratelindo.co.id
mipl.eng@moratelindo.co.id
+628128925628
indri@moratelindo.co.id
+6281294223841
mahadhika.subur@moratelindo.co.id
+6289602676505
jusephine.chrismala@moratelindo.co.id
Public Peering Exchange Points
You may filter by Exchange, ASN or Speed.
10G

2001:df5:b800:bb00:0:2:3947:1
10G

200G

100G

Interconnection Facilities
You may filter by Facility, ASN, Country or City.