PT Mora Telematika Indonesia Tbk - Domestic
Also Known As
Moratelindo
Long Name
PT Mora Telematika Indonesia Tbk / Moratel International
Company Website
Company Website Override
IRR as-set/route-set
AS131111:AS-CEPATNET-AS-ID
Traffic Levels
500-1000Gbps
Geographic Scope
Asia Pacific
Protocols Supported

Unicast IPv4

Multicast

IPv6

Never via route servers
Last Updated
2023-11-23T02:37:12Z
Public Peering Info Updated
2023-11-22T06:24:52Z
Peering Facility Info Updated
2023-11-01T04:13:28Z
Contact Info Updated
2023-08-24T06:47:56Z
Notes
Domestic Network under AS 23947 covering whole of Indonesia.
RIR Status Updated
2022-11-18T22:55:10Z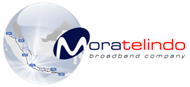 Peering Policy Information
General Policy
Restrictive
Multiple Locations
Required - International
Contract Requirement
Required
Some of this network's contacts are hidden because they are only visible to authenticated users and you are currently not logged in.
+628128925628
indri@moratelindo.co.id
Public Peering Exchange Points
You may filter by Exchange, ASN or Speed.
10G

10G

100G

2402:ac00:de00:de00:0:13:1111:1
10G

100G

80G

Interconnection Facilities
You may filter by Facility, ASN, Country or City.
Indonesia
Jakarta Selatan
Indonesia
Jakarta Selatan